Ivana LMP, works with her clients body mind and spirit to address their whole being. She has clarity and insight into how the energy is flowing. She combines the traditional deep tissue massage with the ancient art of the Sacred Hawaiian massage. It's very healing, relaxing and nurturing. Lomi-Lomi is also called Embracing Hands of the Mother. She also incorporates Reiki and Huna energy work into her sessions.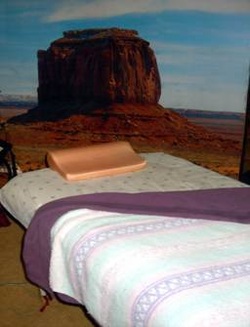 We at the Phoenix Healing Arts in Kent WA.
have a massage table waiting for you.
Get away from the outside world to a new dimension of peace and harmony. You deserve to relax.
What do you get:
* 2 Hours Session: $ 120.00
Combination of Lomi-Lomi with Swedish massage
Sound Therapy
Hot Towel Treatment
Reiki and Huna energy work
Tune Up for your 7 Energy Centers
* 1 1/2 Hour Session: $ 100.00
All of the above and in addition: Tune Up for your 7 Energy Centers.
* 1 Hours Session: $ 70.00
All of the above except the Tune Up for your 7 Energy Centers.
---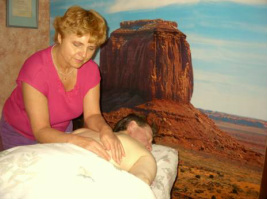 Relax like never before and let Ivana rock you gently
into relaxation. Her massage is healing, relaxing and nurturing.

Huna came from the Hawaiian Kahunas, which work with the 4 Elements
of the Creation. Ivana will ask you to dedicate your session to something that
you would like to create in life for yourself.
---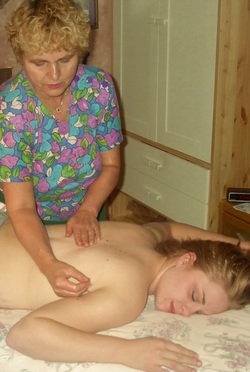 The first step is to change your stressful vibrations into harmonious energy.
There is nothing for you to do, just relax and let Ivana gently rock you into relaxation with Sacred Hawaiian Massage,
Lomi-Lomi.
While experiencing Lomi-Lomi, most people get in touch with their buried emotions that come up for healing.
You will be encouraged to feel all of your feelings and relax into them.
To accept whatever you feel withouth a judgement. Be a watcher and let the emotions come and go. E-motions is ener
gy in motion.
Ivana's nurturing, skilful touch will put you at ease, feeling safe to let go and be in the present moment, "The Here and Now".
Relax into a healing, nurturing ambiance
. Listen to the soft tones of music from exotic places around the world. Let Ivana's nurturing hands relax you as she goes deep into your muscles relieving your tension.
You can feel close to Heaven while enjoying the penetrating heat of hot towels on your sore muscles.
When Ivana's skilful hands find
crystals
in your muscles, she will clear them away if you allow it.
Ivana's product were designed with you in mind, using the finest ingredients from around the
world.
---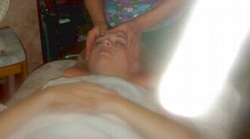 Ivana works with Divine Light from the Universe
There was no visible light. We captured this healing light on the digital camera.

We are an energy beeings and most of us are out of balance living in this physiscal dimention seeking divinity. If you are ready, Ivana will help you connect all aspects of yourself into wholeness within. She allows the light energy flow through her. She is guided by the spirit to custom design a session especially for you. As you heal the whole world heals too because we are one in spirit.
---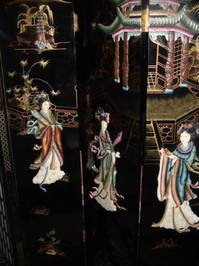 Ivana's product is used in your session if you so desire. You may want to purchase the product, it is available for you to use between your visits.
Relax like never before and let Ivana rock you gently into relaxation. Her massage is
healing, relaxing and nurturing. If you like to get spoiled and to feel
elevated in new found relaxed state of mind come to see Ivana. Call us today
and see how good you can feel. Thank you for taking time for yourself today.
Seated Chair Massage
Fully clothed massage focusing on neck, shoulders, arms, and low back. Provides quick
relief from tension and stress. Corporate outcalls are available for in-office visits for your employees, special events, trade shows, etc. $1.50 per minute, 15 minutes minimum. Ten people minimum for the chair outcall massage.
** Gift Certificates Are Available For Your Loved Ones **Enjoy!
2 hours is $120; 1 1/2 hours is $100; and an hour is $70.
Cash Only
Call Ivana today and Relax Like Never Before

By Appoitment Only

253 630 7509
206 355 5358

How to find us:

http://www.mapquest.com/#e9e8bb2d43f7a01c18e534f1

​
---