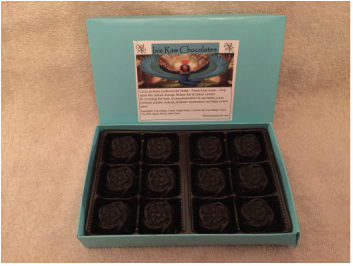 Isis Raw Chocolate

* Coconut Oil and Chaga: Immune system support
* Maca Root: Boost in energy, Relief from stress and aphrodisiac.
* Coconut Nectar & Agave: Low glycemic natural sweetner
* Camu Camu: Vitamin C more than any other plant in the world
* Lucuma: Skin repair benefits and anti-aging effects
* Matcha: Weight loss, Relaxed alertness, Antioxidants, Detoxifying
* Moringa: Complete protein, Detoxify, Improves mental clarity
* Macuna: Dopamine, Stamina, Healthy sensory awareness,
* Mesquite: Helps relieve stress and anxiety.
* Curcumin: Stop Inflammation, Weight loss, Joint support, Healthy skin
---
Isis Raw Chocolate
Organic Raw Ingredients
8 oz.
$ 20.00​



​Moor Mud Bath
Detox
8oz bottle $10.00

Melt your stress away Secret of the European Spas
Rich Dark Mud with over 380 Healing
Botanicals. One of Natures Most Healing Agents.

Soothe your aches and pains.
Moore Mud is imported from Hungary

Helpful when you are tired and exhausted.
Rejuvenate, Detoxify, Ease Pain, Treat Arthritis,
Boost Immune System, Reduce Inflamation
and Balance the Hormonal System.

To use for detox: Empty the container into your bath. Relax for
up to 30 minutes. Or use in two baths. Recommended three times a week for three weeks for detox.




---
Itchbuster Body Shampoo
Relief for irritated skin
8oz. bottle $10.00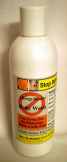 Use in the shower for itching skin and rashes.
( No open sores ). Apply, leave on for 5 minutes then rinse. Feel your skin
getting healthier and refreshed.

Itchbuster Body Shampoo can eliminate mites and parasites living on he
skin. Great for acne and numerous skin disorders. Relief for itching and
discomfort caused by Molds, Poison Ivy and other skin irritants.

Ingredients: 10% sulfur, Zinc, Calamine, Bentonite, (warning: Keep out of
Eyes and don't use if you have an open sores ).
​



---
Protection Aroma Mist
5oz. bottle $10.00
Protection Aroma Mist
8oz. mist bottle $15.00
Liquid Incense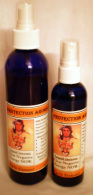 Disolves negative energy.
Great for therapists and body workers


Dissolve negative energy to clean & clear your aura, the space around
you. Use your Protection Mist everywhere you go, including at work.
Keep the bad spirits away and create good vibes wherever you go!

Mist around you for protection and around you
for space clearing. Protection Mist can be used
for your face, eyes closed when you u apray the mist.

Ingredients: Purified Water, Green Tea, Oils of
Lavender, Wormwood, Mugwort, Osha, Flower
Essences and other essential oils.

​



---
Be Well Aromatherapy Mist
Protect and Prevent from viruses and
germs. Helps to stimulate the immune
system Breathe easy in flue season

5.oz mist bottle : $10.00

Ingredients: Water, vitamin E, witch hazel, alcohol,
kelp, Aromatherpy oils of: Manuka, Eucalyptus, Geranium,
Clary Sage, Hinoki and other essential oils.

Mist around you with your eyes closed. Can be used on face.






---
Itchbuster PM Cream:
Itch and Rash Relief. Use on your body after shower on wet skin.
2oz jar: $10.00


Petroleum Jelly, 10% Sulfur (warning: Keep out of Eyes!),
Lanolin, Vitamin E, Lavender, Pennyroyal, Cedarwood,

---